PhoneSoap Wireless
Clean & Charge Wirelessly
PhoneSoap Wireless
Clean & Charge Wirelessly
Now Shipping Version 1.2 with enhanced wireless charging. Simply place your device directly into the PhoneSoap Wireless hub and charge and sanitize your phone without the need of connecting a charging cable.
Fast & Free U.S. Shipping
Product Details
PhoneSoap Wireless utilizes Qi wireless technology to charge your phone without needing to attach a charging cable. The unit will still need to be plugged into the wall, but with PhoneSoap you get the latest technology in charging and sanitizing all in one beautifully designed device. For answers to common product questions and additional safety information, please visit our FAQ page
(PhoneSoap Wireless is a consumer device not meant for use in healthcare. Healthcare devices can be found here).
Wirelessly charge your phone using Qi Technology
UV sanitizer kills 99.99%† of germs
Safely sanitizes anything that fits inside
Works with any phone operating system (Apple iOS, Android, etc.)
Extra charging ports allow it to act as a universal charger for devices
Wireless Charger and Sanitizer
Say goodbye to tangled wires and lost charging cables. The PhoneSoap Wireless charger and sanitizer utilizes Qi inductive charging technology that eliminates the need to attach your charging cable to your phone to charge your device.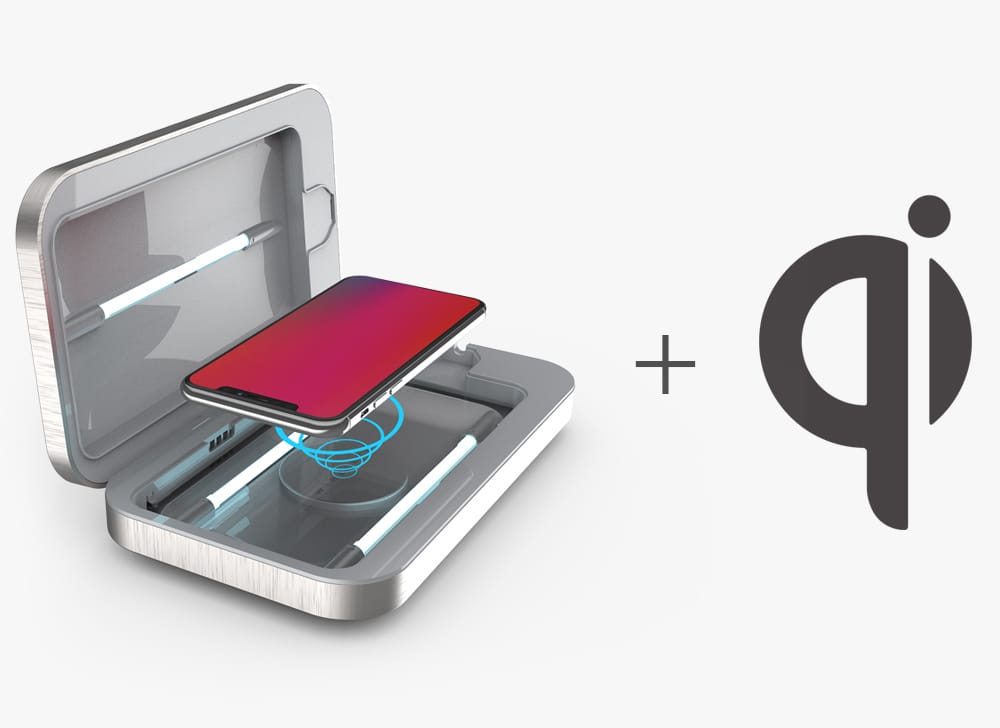 PhoneSoap Wireless Compatibility
The PhoneSoap Wireless charger is compatible with all the latest phones that support wireless charging, including the following:
Apple: iPhone 8, iPhone 8+, iPhone X
Samsung: Note 8, S8, S7, S7 Edge, Note 5, S6, S6 Edge.
Microsoft Lumia: 1520, 1020, 930, 929, 928, 920.
Google Nexus: 4, 5, 6, 7 (2013)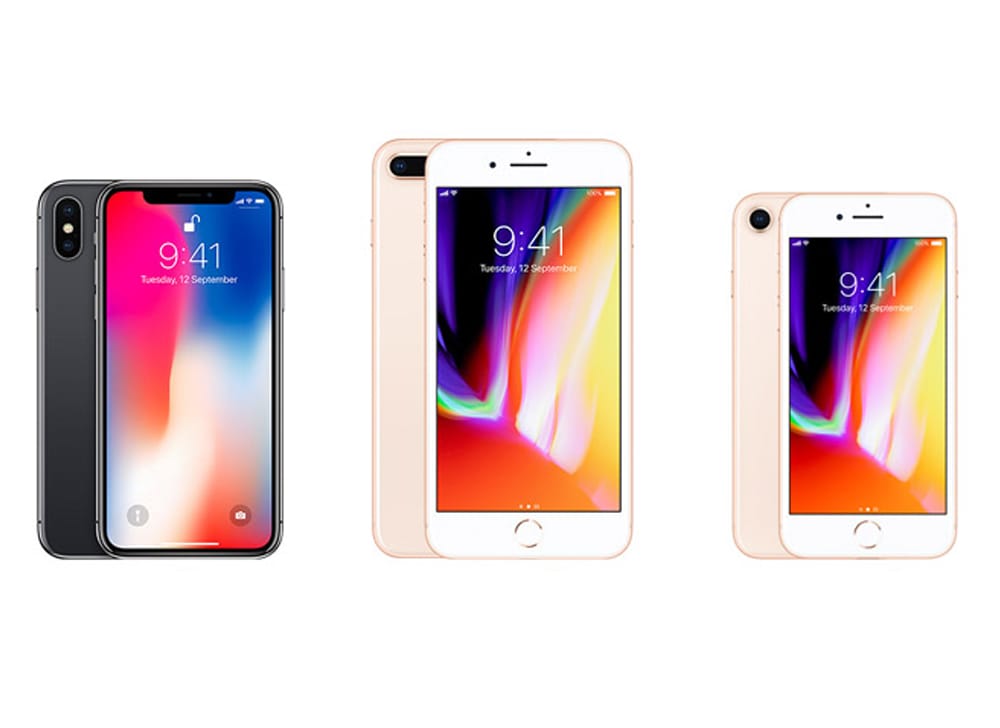 Charging Hub For All Your Devices
PhoneSoap Wireless includes both wireless and wire charging capabilities. Use PhoneSoap as your hub to wirelessly charge your phone while you charge your other devices at the same time.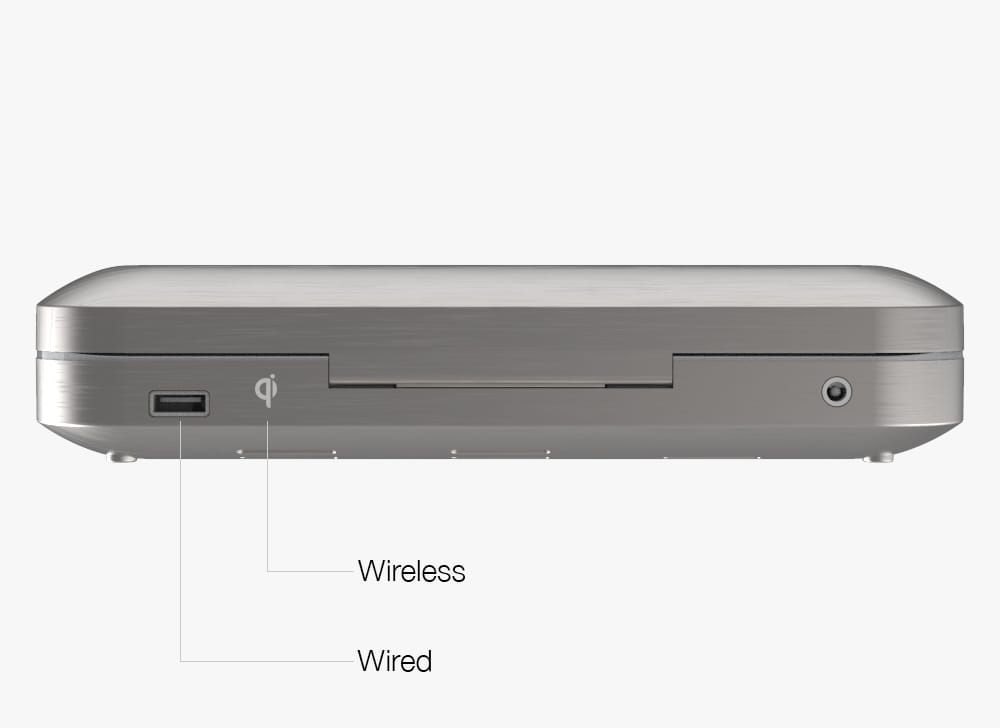 PhoneSoap Wireless is Effective
Four powerful UV-C lights and a reflective inner surface allow the light to surround your phone and ensure the destruction of any unwelcome guests. While PhoneSoap Wireless was created to focus on smartphones, anything you put inside will be safely sanitized. If it fits, it cleans. PhoneSoap Wireless only takes 10 minutes to completely sanitize* your phone. A blue indicator on the top will let you know when the sanitizing is complete. Take a look at the results and see for yourself!
*Based on independent third-party test results with staphylococcus aureus.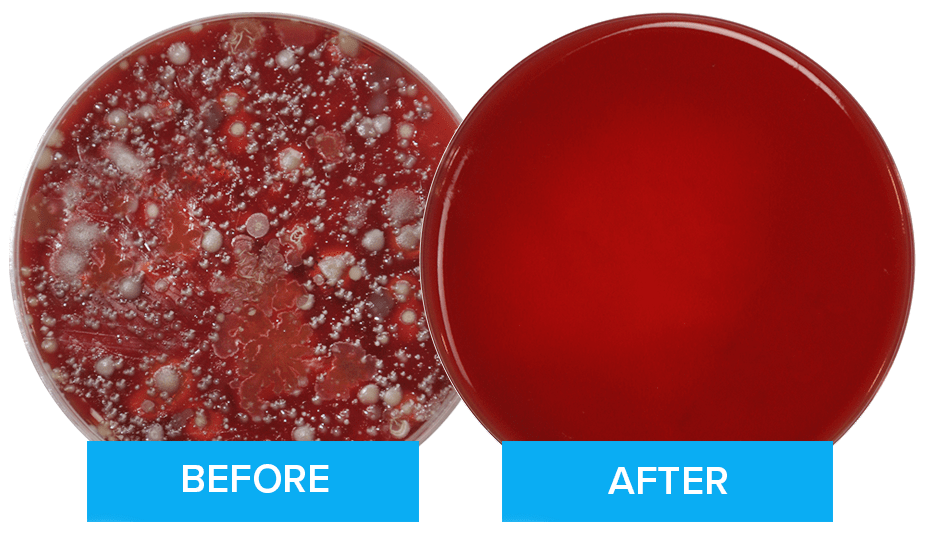 Photos from actual PhoneSoap laboratory test results.†
Sanitize Safely
The UV-C lights inside PhoneSoap kill germs without harmful heat, liquids or chemical solvents.
Disinfect with Ease
PhoneSoap can sanitize more than just smartphones, including: keys, credit cards, and more.
Know When It's Clean
PhoneSoap's glowing lightning bolt indicates when your device is being sanitized.
Fits All Phones
PhoneSoap Wireless is big enough to sanitize even the largest phones on the market.
Photos from actual PhoneSoap laboratory test results.†
Stop Germs, Stay Healthy
PhoneSoap's medical-grade UV lights eliminate bacteria, viruses and germs that live on your phone.
Product Features
Proven Wireless Technology
PhoneSoap Wireless utilizes Qi inductive charging technology that eliminates the need to attach a charging cable.
Let there be light
An additional UV-C lamp in the base ensures the same quality disinfection as the PhoneSoap 3.
Charge more things
A USB charge port around back allows for classic wired charging of your phone, watch, or anything else.
Specs
Inner Dimensions

Millimeters: 173 L X 95 W X 20 H
Inches: 6.8 L x 3.74 W x .78 H

Please check your phone dimensions to confirm it fits inside.

Fits all Apple, Samsung, and Google devices.

Outer Dimensions

Millimeter: 216 L x 127 W X 44.8 H
Inches: 8.5 L X 5 W X 1.76 H

Disinfection

The PhoneSoap process takes 10 minutes. A blue indicator turns on when you insert your phone and shuts off when the process is complete. PhoneSoap 3 was designed specifically for cell phones, however, other objects may be safely inserted as well. The UV light inside PhoneSoap 3 is most effective on hard, non-porous surfaces such as phones, most phone cases, keys, credit cards, etc. UV light is less effective against fabrics and other porous materials because of the many shadows they create that may block the UV light from hitting the surface. While PhoneSoap 3 physically fits all phones and most phone cases, it's effectiveness on your phone/case combination will be reduced if it touches the sides of the PhoneSoap 3 device. If you have an exceptionally large phone with an unusually large case, consider upgrading your purchase to the HomeSoap to guarantee maximum effectiveness on every surface. Learn more by reading our FAQ on how UV light kills germs.

Universal Charger

PhoneSoap Wireless houses a Qi charger, meaning it will wirelessly charge any phone that supports wireless charging. In addition to the Qi charger, the PhoneSoap Wireless also provides a standard USB port in the back, for universal charging of any device.

Included in Purchase

PhoneSoap Wireless, power adaptor
Compare
Compatability

All Platforms

Compatability

All Platforms

Compatability

All Platforms

Charging Ports

2 (USB, USB-C)

Charging Ports

2 (USB, Qi Wireless Charger)

Charging Ports

2 (USB, USB-C)

Disinfection Time

10 Minutes

Disinfection Time

10 Minutes

Disinfection Time

10 Minutes

Color Options

Multiple Color Options

Color Options

Gunmetal & White (soft-touch)

Color Options

Indigo & White

Disinfects Other Household Items

Disinfects Other Household Items

Disinfects Other Household Items