PhoneSoap Go
Don't Slow Down for Germs
PhoneSoap Go
Don't Slow Down for Germs
Bucket-listers, biz travelers and busy bees, listen up. It's time to travel with more peace of mind. Disinfect and charge your smartphone wherever you roam with the rechargeable PhoneSoap Go. Take the train, plane, cab or camel—with less germ-induced stress. You've got the industry-leading UV light disinfection device on your side.
Fast & Free U.S. Shipping
Product Details
Your smartphone goes everywhere with you in this gorgeous germ tank of a world. What kind of microbes are hitching a ride on it while you're on the go? Trust us. You don't want to know. The good news is that you can keep them at bay with the battery-powered PhoneSoap Go, the first and only portable cell phone charger that cleans and disinfects your phone while it charges. Backed by laboratory testing† that simulates the real world, the PhoneSoap Go is ready for whatever critters you pick up. Disinfect with ease and never miss a beat—or an adventure—with the PhoneSoap Go. For answers to common product questions and additional safety information, please visit our FAQ.




(PhoneSoap Go is a consumer device, not meant for use in healthcare. For Healthcare devices view the
ExpressPro
).
UV light kills up to 99.99%† of germs
Fits all phone and case sizes
Built-in rechargeable battery
Up to 4 full phone charges or 45 sanitizing cycles
Two charging ports allow it to act as a universal charger for any device
Carrying case included
You Asked, We Delivered
The wait is finally over. PhoneSoap is excited to reveal the newest addition to our product line: PhoneSoap Go. This battery-powered unit was specifically created for those always on the go. So what does that mean? It means your sanitizing is no longer limited to the walls of your home. It means you can take your PhoneSoap Go just about anywhere.
A Charger Unlike Any Other
Traveling can quickly drain your phone battery, so like our other products in the PhoneSoap line this unit tackles two issues: keeping your smartphone sanitized AND charged. The PhoneSoap Go was built like a powerbank, sustaining up to 4 full charges of your smartphone, so you'll never have to worry about missing an important email or finishing that movie you're watching to pass the time.
Disinfect, Charge and Go
The world is crawling with some serious bad guy germs. Love it anyway with a PhoneSoap Go. Airport security bins and subway handrails have been known to show traces of the rhinovirus, influenza, fecal matter and the bacteria known to cause the bubonic plague. The UV-C lights used in the cordless PhoneSoap Go will kill 99.99%† of even hard-to-kill germs in just 10 minutes. On a full charge, the PhoneSoap Go can disinfect your dirty smartphone up to 45 times.
Kills Cold & Flu Viruses
Germs are good for you, right? Well...no, not all of them. It is true that moderate exposure to germs will help boost our immune systems and keep us healthy. However, the reason we get sick is due to the spreading of harmful bacteria. Our phone is a hotspot for breeding germs, even the kind that will make you sick. Fortunately, PhoneSoap Go kills cold and flu viruses!*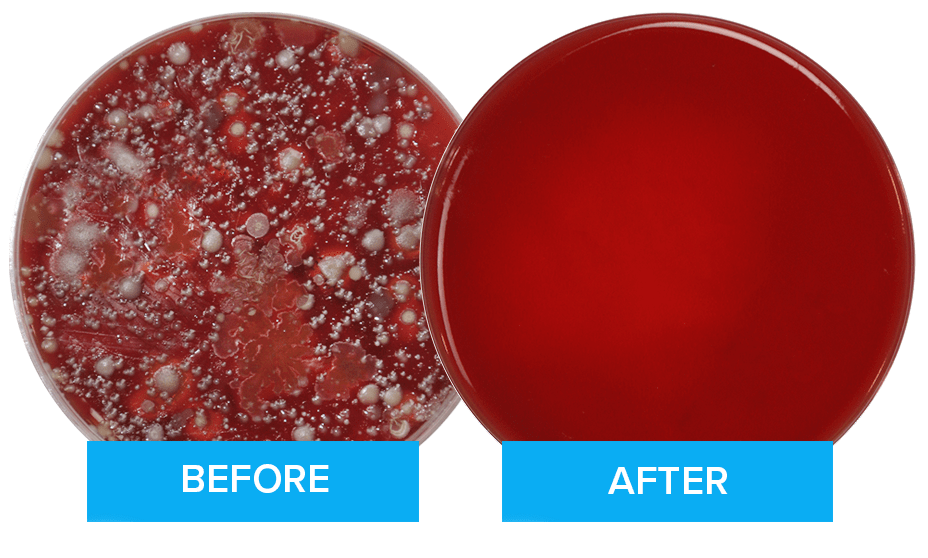 Photos from actual PhoneSoap laboratory test results.†
No Liquid, No Heat, No Chemical Solvents
PhoneSoap uses UV-C technology to kill the germs and bacteria on the surface of your phone†. With lightbulbs on both the top and the bottom, the PhoneSoap Go achieves 360-degree disinfection, reaching tiny crevices that not even liquid cleaning agents can. The unit will automatically shut off after 10 minutes, so you never have to worry about the device overheating.
Photos from actual PhoneSoap laboratory test results.†
Stop Germs, Stay Healthy
PhoneSoap's medical-grade UV lights eliminate bacteria, viruses and germs that live on your phone.
Specs
Inner Dimension

Millimeters: 173 L X 95 W X 20 H
Inches: 6.8 L x 3.74 W x .78 H

Please check your phone dimensions to confirm it fits inside.

Fits all of the latest Apple, Samsung, and Google devices, such as the iPhone Xs, Galaxy A9s, and Pixel 3, as well as other large phones.

Outer Dimensions

Millimeter: 216 L x 127 W X 44.8 H
Inches: 8.5 L X 5 W X 1.76 H

Battery

PhoneSoap Go has a built-in, rechargeable 6000mAh battery and takes 4.5 hours to charge to 100%.

There are four lights above the lightning bolt on the top of the PhoneSoap Go. These lights indicate how much battery power is remaining. Each light equals 25% battery life. If all four lights are lit up then your battery is 100% charged.

Sanitizing

PhoneSoap Go can sanitize your phone up to 45 times on a single charge. This will vary depending on if you use the PhoneSoap to charge your devices as well.

Sanitation cycles last 10 minutes. To start and stop the sanitation cycle click the lightning bolt on the top of the PhoneSoap Go.

The sanitizing space was designed to fit even the largest phones. Measure your phone (with or without a case) to ensure it will fit inside. Sanitizing takes 10 minutes. A blue indicator turns on while your phone is being sanitized and shuts off when the process is complete. PhoneSoap Go was designed specifically for cell phones, however, other objects may be safely sanitized as well. The UV light inside of PhoneSoap Go is most effective on hard, non-porous surfaces such as phones, most phone cases, keys, credit cards, etc. UV light is less effective against fabrics and other porous materials because of the many shadows they create that may block the UV light from hitting the surface. The UV light can only kill germs on surfaces with which it comes in contact. While PhoneSoap Go physically fits all phones and most phone cases, it's effectiveness on your phone/case combination will be reduced if it touches the sides of the PhoneSoap Go device. If you have an exceptionally large phone with an unusually large case, consider upgrading your purchase to the PhoneSoap XL to guarantee maximum effectiveness on every surface. Learn more by reading our FAQ on how UV light kills germs.​

Universal Charger

PhoneSoap Go can charge your phone up to 4 times depending on the size of your phone's battery. The more you use PhoneSoap Go to charge your phone, the less power will be available for sanitizing and vice versa.

PhoneSoap Go has a two standard 5V USB ports accessible on the back of the device next to the unit's power port. You will use the cable provided with your phone to charge. Plug this cord into the back of the device and pass it through the port on the bottom of the device into the sanitizing space. Once inside, plug it into your device to engage charging. The PhoneSoap Go does not need to be plugged into the wall for the sanitizing and charging to work. Any device that charges through USB can be safely charged and sanitized inside.

Included in Purchase

PhoneSoap Go, charging cable, & carrying case. Note: Wall adapter is not included. Use the wall adapter that was included with your phone.
Compare
Compatability

All Platforms

Compatability

All Platforms

Compatability

All Platforms

Charging Ports

2 (USB, USB-C)

Charging Ports

2 (USB, Qi Wireless Charger)

Charging Ports

2 (USB, USB-C)

Disinfection Time

10 Minutes

Disinfection Time

10 Minutes

Disinfection Time

10 Minutes

Color Options

Multiple Color Options

Color Options

Gunmetal & White (soft-touch)

Color Options

Indigo & White

Disinfects Other Household Items

Disinfects Other Household Items

Disinfects Other Household Items